The Storage view is designed to be a billing interface. Ideally, it will provide all of the information that all of our resellers need to bill their customers.
Here you can see statistics for each computer under each backup account across all of your different brands.
Each row of the table represents one computer under a specific account and brand. If you have multiple brands installed on the same computer then the computer will have an entry in the table for each different account or brand it is using.
The columns are all sortable, just click on the header. Clicking on the 'info' button in any row will pop-in a detail pane with a complete backup history for that computer.
You can set the status fro each computer here as well using the status selector. Possible settings are Trial (the default), Active, Test, Suspended, and Deleted. (NOTE: If you mark a computer 'Deleted' it will be hidden from the views.)

If you have more than one brand you can filter by a specific brand using the Brand selector:

You can export either of these tables to a variety of formats using the Export selector:

You can show or hide columns with the Columns selector:

Any columns and rows showing when you export the table will be in the exported data, and any hidden columns and rows will not.
Likewise, you can filter the table by using the search box to restrict the report to only specific search results.
Clicking on any row in the table will bring up the Storage History detail for the computer represented by the row: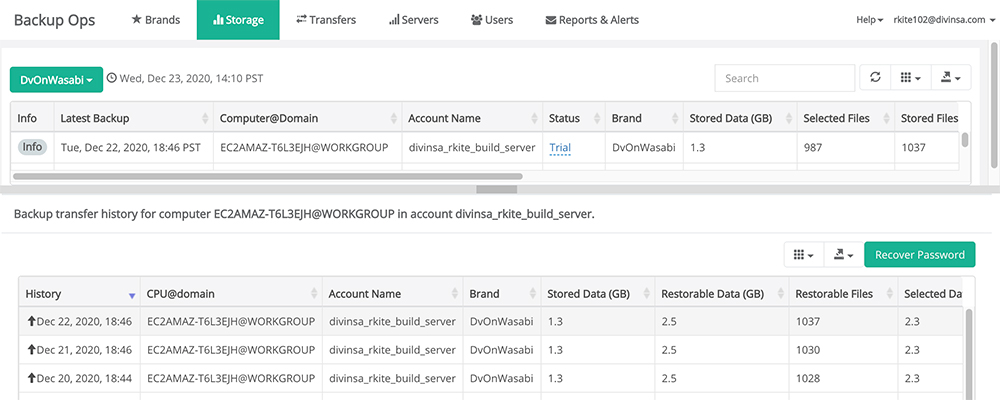 Similarly, the Column selector and Export selector allow customization and exporting of the Storage history table for each account.